Warning
You can only add maximum 3 villas to compare
Close
Warning
You can only add maximum 3 villas to compare
Close
Nikunjam Constructions (P) Ltd.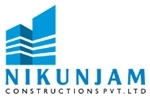 Nikunjam Constructions (P) Ltd.
Indraprastham,
T.C. 4/2554(3),
Pattom-Kowdiar Road
, Trivandrum, Kerala
9947745557
04712436173
nikunjambuilders.com
Year of Establishment : 2008
Total number Projects : 18
Completed Projects : 13
Ongoing Projects : 5
Upcoming Projects : 0
About Nikunjam Constructions (P) Ltd.
Your home is your heaven. The one place that is a reflection of you. This is why we've put in all our efforts to make your dream, your home. Since our inception we've concentrated our energies and expertise into making beautiful home. NIKUNJAM started as a modest but strong, consistent, multi-faceted, multi-disciplinary organization, committed to customer satisfaction. We have always banked on innovation, teamwork, a high degree of technical excellence and maintaining the highest standards of business practice.