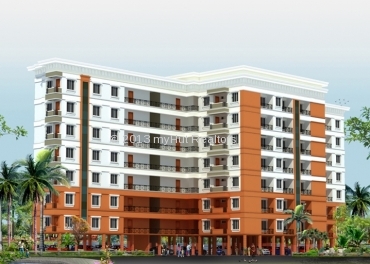 Apartment Project Details
| | | | | |
| --- | --- | --- | --- | --- |
| Type | Buid Up Area | Rooms | Bathroom | Price |
| 3BHK | 1,252 Sq.ft | 3 | 3 | 3,756,000 |
| 1BHK | 474 Sq.ft | 1 | 1 | 1,800,000 |
| 1BHK | 492 Sq.ft | 1 | 1 | 1,800,000 |
| 1BHK | 557 Sq.ft | 1 | 1 | 1,800,000 |
| 1BHK | 556 Sq.ft | 1 | 1 | 1,800,000 |
| 1BHK | 542 Sq.ft | 1 | 1 | 1,800,000 |
| 1BHK | 543 Sq.ft | 1 | 1 | 1,800,000 |
| 1BHK | 530 Sq.ft | 1 | 1 | 1,800,000 |
| 1BHK | 516 Sq.ft | 1 | 1 | 1,800,000 |
| 2BHK | 956 Sq.ft | 2 | 2 | 3,000,000 |
| 2BHK | 891 Sq.ft | 2 | 2 | 3,000,000 |
| 1BHK | 539 Sq.ft | 1 | 1 | 1,800,000 |
| 2BHK | 891 Sq.ft | 2 | 2 | 3,000,000 |
| 1BHK | 513 Sq.ft | 1 | 1 | 1,800,000 |
| 1BHK | 471 Sq.ft | 1 | 1 | 1,800,000 |
| 1BHK | 460 Sq.ft | 1 | 1 | 1,800,000 |
| 1BHK | 464 Sq.ft | 1 | 1 | 1,800,000 |
| 1BHK | 601 Sq.ft | 1 | 1 | 1,800,000 |
Property Description
So close to the city; so close to your heart! Located around 500 meters from Mammiyur Siva temple and 100 meters from the Mammiyur Junction, Nandanam Abode Apartments at Guruvayoor is placed in an idyllic location and ambience. For those who look for a spiritual fulfillment, in the vicinity are the Guruvayur Lord Krishna Temple, Mammiyur Siva Temple and Naraynamkulangara Bhagavathy Temple. Churches and Mosques as well are not too far away. Little Flower Convent School, Sree Krishna School, Little Flower College, Kairali Hospital, Rajah Charitable Hospital, Gruvayur Devasowm Hospital, Super markets and tourist spots and all that's essential for a smooth life, are easily accessible in a few minutes walk or drive. Nandanam Abode Apartments at Guruvayur is at its best when it comes to calm and quiet living. If you are on look out for a living space in Guruvayur, look no further than Nandanam Abode Apartments.
Amenities
General :
Lifts
Water Supply
Visitor Parking
Security :
Specification
Structure

R.C.C framed structure in 1:1/2:3 with adequate foundation.
Kitchen

Kitchen counter with granite top and stainless steel sink fitted with Tap Glazed Tiles above counter, up to a height of 60 cms.
Floor

Vitrified tiles for the apartment and lobbies
Toilet

Flooring with ceramic Tiles and wall doing with glazed tiles up to 1.50m height. European style Water closets (ISI) in toilets, provided with Two Taps and one with an extra basin and shower.
Doors & Windows

Polished Hard Wood entrance door and molded internal doors, Sintex doors for toilets.
Painting

Putty with Emulsion finish for interiors, emulsion paint for external walls and enamel paint for doors and windows.
Electricity

Common Three Phase connection to the building and single phase connection to each apartment. Concealed conduit with copper conductor(ISI Mark),adequate light and fan points, 5/15 Amp plug points etc, controlled by E.L.C.B and M.C.B.S with independent K.S.E.B, Meters, cable T.V Points, Telephone points, Geyser points etc.
Fire Fight

Fire Fighting arrangements as per Kerala Building Rules and fire force requirements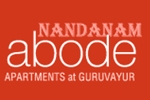 Nandanam Adobe
Salim Associates
Guruvayoor ,
Property Details
Total number of types : 13
Total number of towers : 2
Total number of floors : 7
Transaction Type : New Property
Age of Apartment : Under Construction
Furnished : UnFurnished
Availability : Available After
Availability : After --
Loan Providers
State Bank of India
HFDC Bank
State Bank of Travancore